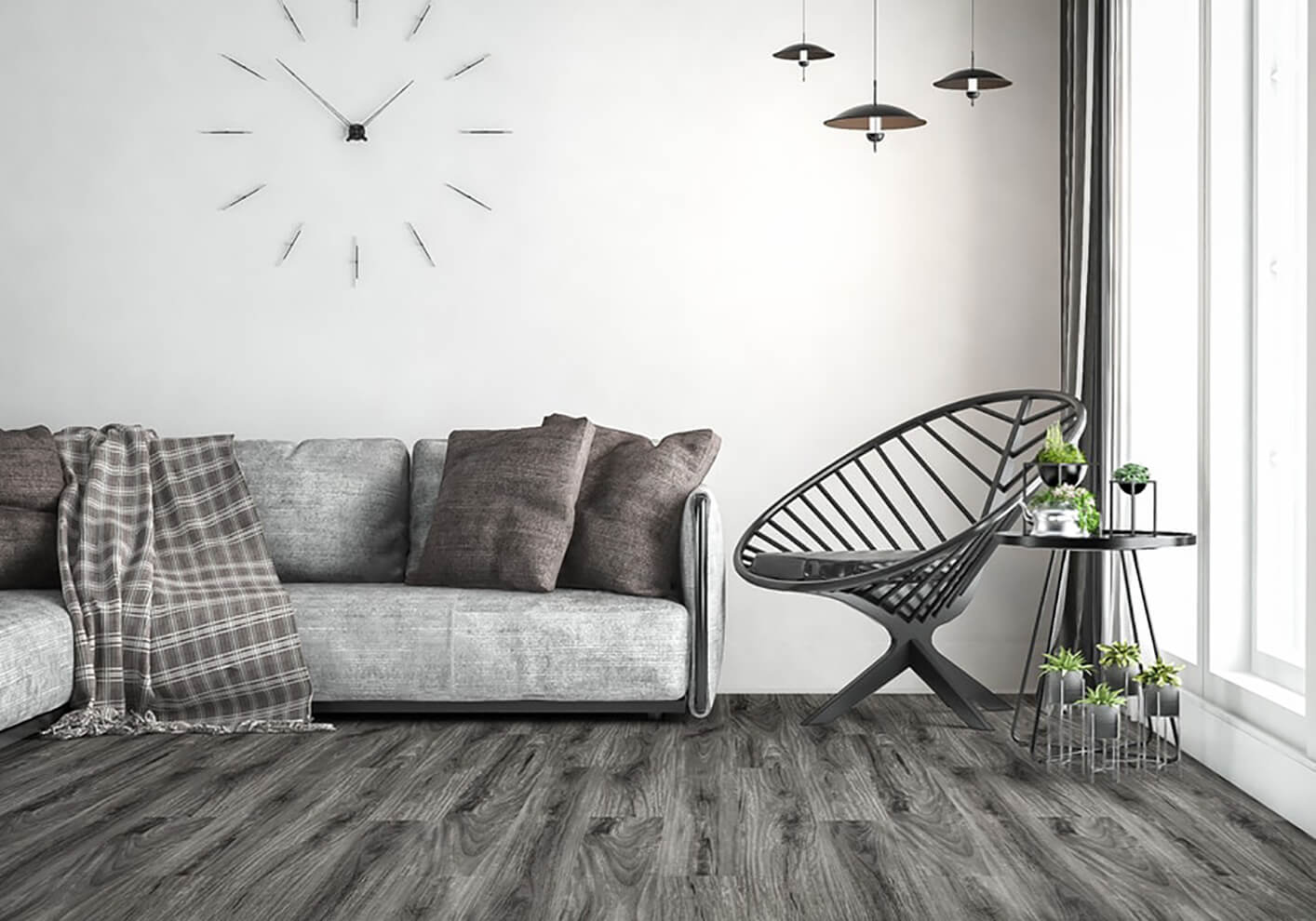 SPC Vinyl Flooring stands for stone plastic composite vinyl flooring. Similar to WPC vinyl, an SPC vinyl is an engineered luxury vinyl that combines limestone and stabilizers to create an extremely durable core. An SPC vinyl floor is still 100% waterproof, but adds stability, dent resistance and structure to vinyl plank flooring.
Benefits of SPC Vinyl Flooring
LVP, or Luxury Vinyl Plank, is a durable, affordable, and beautiful alternative to hardwood flooring. It's well-suited for a variety of residential and commercial applications, and, when installed correctly, perfectly mimics the look, texture, and warmth of real wood. But how much do you know about the vinyl that gives LVP flooring its resilience and strength?
Today's LVP floors are at the top of their game, from their three-dimensional embossing mimicking natural hardwood, to the numerous applications of their resilient structure.
Our styles reflect the look and feel of nature on easy-care, low-maintenance vinyl. We use cutting-edge print technology to produce beautiful floors that look just like traditional and exotic wood species, limestone, sandstone, slate and other natural materials.
Vinyl flooring is a versatile and cost-effective option that brings a plethora of benefits to various types of homes. This type of flooring has come a long way in terms of design and quality, making it an attractive choice for homeowners seeking a durable and low-maintenance flooring solution.
One of the most notable advantages of vinyl flooring is its exceptional durability. Designed to withstand high foot traffic, spills, and scratches, vinyl floors are well-suited for busy households with children and pets. Additionally, they are highly resistant to moisture, making them an ideal choice for bathrooms, kitchens, and basements where water exposure is common.
The aesthetic appeal of vinyl flooring has significantly improved over the years, offering a wide range of styles and designs that mimic the look of natural materials such as wood, stone, and ceramic tiles. Homeowners can choose from various patterns, colors, and textures to match their interior decor and create a cohesive and visually appealing living space.
Another advantage of vinyl flooring is its ease of installation and maintenance. With the availability of both self-adhesive and click-and-lock systems, vinyl floors can be installed without the need for professional assistance, saving time and money. Furthermore, their smooth and non-porous surface makes cleaning a breeze, requiring only regular sweeping and occasional mopping to keep them looking fresh and vibrant.
Vinyl flooring fits well in different types of homes, particularly those with active lifestyles, families, or pets. Its durability and resistance to wear make it an excellent choice for high-traffic areas. Moreover, vinyl flooring is a popular option for rental properties or investment homes as it offers an attractive and budget-friendly solution without compromising on quality.
Additionally, vinyl flooring is an excellent choice for homes located in regions with varying climate conditions. Its resistance to moisture and temperature fluctuations makes it suitable for both humid and dry environments. Whether it's a coastal beach house or a cozy cabin in the mountains, vinyl flooring can withstand the challenges posed by different climates. Looking for Vinyl flooring in Dallas? Contact us today.
In conclusion, vinyl flooring is a practical and stylish option that complements various types of homes. Its durability, wide range of design options, and easy maintenance make it an ideal choice for families, rental properties, and homes in different climate conditions. With its budget-friendly nature and ability to withstand everyday wear and tear, vinyl flooring continues to be a popular and reliable flooring solution for homeowners across the board.